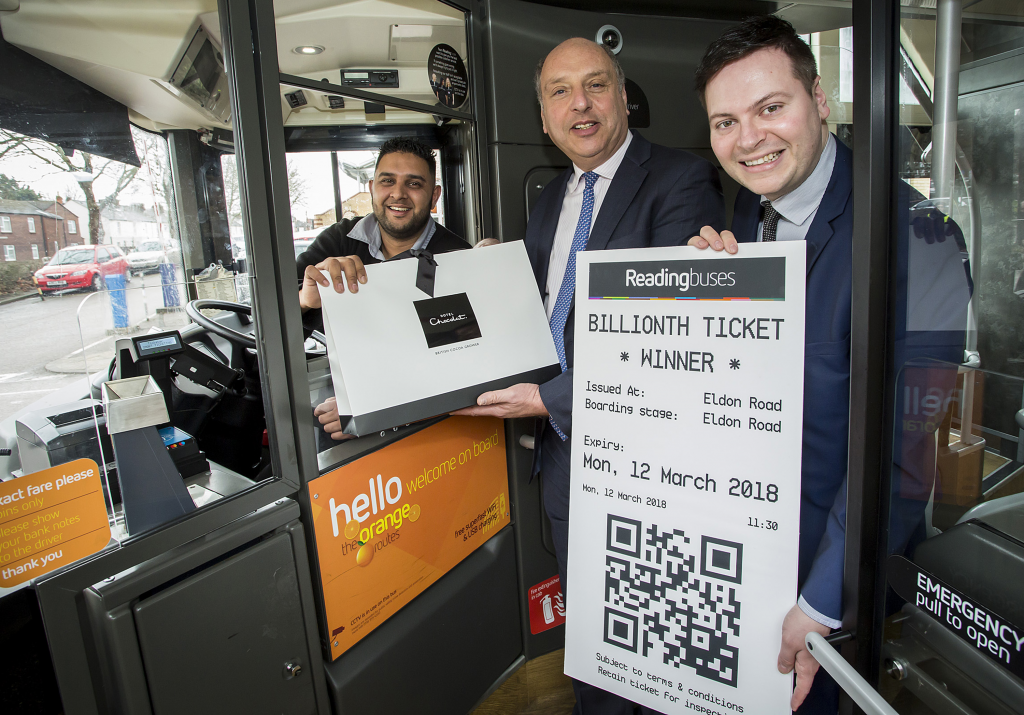 Talwinder Sandhu, a driver for Reading Buses, was delighted to find that he had issued the Billionth Ticket bought through a Ticketer Electronic Ticket Machine in the UK, and won a luxury Hotel Chocolat hamper, presented by Ticketer's Managing Director John Clarfelt.
Talwinder's is the one billionth ticket issued since Ticketer was founded only eight years ago.  Ticketer made its mark supplying easy to use, high-tech ETMs, initially mainly to small and mid-size operators, and has quickly grown into a contactless ticketing expert supplying everyone from the smallest to the largest bus operators in the UK.  In fact, Ticketer is growing so quickly that it expects to reach its two billionth ticket within the next 12 months.
Martijn Gilbert, Reading Buses' Chief Executive Officer said:  "We're honoured to learn that the billionth Ticketer ticket has been issued onboard one of our buses. We were one of the first larger bus operators to adopt the flexible retailing platform and have worked closely with Ticketer since to deliver a number of industry firsts, including seamless and network wide contactless bank card acceptance just 13 months ago. And of course, our collaborative partnership helped us to be at the forefront of QR code ticketing through our mobile app, which has revolutionised how our customers buy their tickets for travel.
"It's great, but not surprising, to see Ticketer proving so popular with more and more operators, large and small, adopting the system and we look forward to continuing to work with them to harness their scale and operating experience to develop future improvements and innovations in this important element of a bus business."
John Clarfelt, Managing Director of Ticketer, comments:  "The last couple of years have been the busiest in our history.  We have more than doubled in size, in terms of operators we serve, tickets we issue, and our Ticketer Team staff.  We pride ourselves on giving all our clients, from the very smallest local bus services to the national operators, all the benefits of multiple payment options including contactless technology, delivered for the convenience of passengers and drivers alike, as well as the smoother running of bus services."
Clarfelt launched a competition amongst Ticketer staff to guess the date that this milestone would be reached.  Patrick Smith was the colleague who had the closest guess, and he was only out by 21 hours and 54 minutes.  Patrick's initial prize was his P45, for outguessing Ticketer's MD. This was later rescinded, and replaced with a magnum of champagne.
For further information please contact: