Thamesdown Transport has introduced contactless technology through the very latest Electronic Ticket Machines from Ticketer.  Passengers in Swindon are now able to pay for travel using Apple and android devices and Apple Watch, as well as existing smart travel cards and cash.
Go South Coast took the reigns at Thamesdown earlier this year and had been seeking new ways to enhance the services it offers to those living and working in the region.  The introduction of the Ticketer system is expected to increase accessibility and speed up overall journey times.
Alex Chutter, General Manager at Thamesdown Transport, commented: "We are the first operator in Swindon to offer this facility – and it is all about providing our customers with quicker and more convenient ways to pay.
"I'd like to reassure customers who prefer to use other payment methods – like cash and TravelCard – that they will still be able to do so, and our drivers can give change.  The introduction of contactless technology adds further choice for passengers, making the bus an attractive option for those wishing to travel in the region."
John Clarfelt, Managing Director of Ticketer, comments:  "We are very proud to be supporting Thamesdown in providing its customers with the very latest in contactless payment technology, as well as the option to pay by cash and every method in between."
Chutter continues:  "We chose Ticketer because of its innovative and cost-effective system. The software and devices impressed us so much that we have installed them across our entire fleet here. The team at Ticketer has been instrumental in allowing us to implement our 'contactless' offering – and it is proving tremendously popular among our customers."
Ed Wills, Operations Director for Go South Coast, commented: "It is refreshing to finally work with a ticketing supplier that listens to customers and is flexible in its approach. We have now decided to roll out Ticketer machines across our entire wider fleet over the next few months and look forward to working in partnership with Ticketer."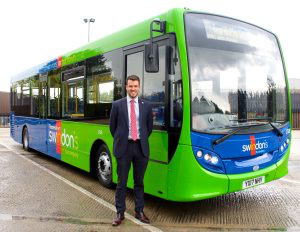 For further information please contact: