The developers at Ticketer have been busy adding to their farmyard repertoire. Once again, in support of Ipswich Buses' involvement in fundraising for St Elizabeth Hospice, the team has adapted all ticket machines to emit a farmyard animal sound.
During Woolly Pully Week, when people are encouraged to wear festive Christmas jumpers to raise money for the Hospice, Ipswich Buses ticket machines will 'baa' whenever someone buys a Family 5 ticket.
Woolly Pully Week runs from 12th to 16th December 2016, and supporters wear their 'craziest Christmas knit' and donate £2 to St Elizabeth Hospice. Ipswich Buses is also doing its bit by encouraging drivers and supervisors to join in, as well as collecting credit tickets from customers to turn into cash donations for them. All the money raised helps ensure nobody has to face their illness alone this Christmas.
This is not the first time Ticketer has been asked to create an audible response to a ticket being issued. Earlier this year Ipswich Buses ticket machines were 'oinking' in response to another fundraising initiative for St Elizabeth Hospice.
Jeremy Cooper, Director for Ipswich Buses, commented: "Our 'noisy' ticket machines were a big hit in the summer and so we were keen to do something again for the Hospice. Woolly Pully Week gave us the perfect opportunity to go baa-king mad."
John Clarfelt, Managing Director of Ticketer, comments: "Ewe will never find Ticketer turning down a challenge, and once again we were more than happy to say yes, and avoid looking sheep-ish."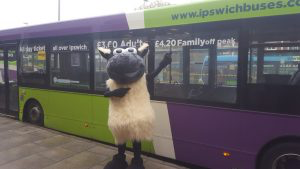 For further information please contact: